Pitching depth is important. You could even go as far as to say that it's more valuable than position player depth. The season is long, players change, situations change, and injuries happen. Any team, especially those looking to contend and be ahead of the curve, need to be advantageously prepared for every situation and opportunity that may arise during a given season.
That's where Miguel Gonzalez came in on Monday. The White Sox rotation as of late has been good. It's been really good. And the White Sox, who were on the tail of a four game winning streak, weren't looking for the momentum to stop north of the border. Following the rotational order, the next start against the massively powerful Toronto Blue Jays would have been delegated to John Danks, the only pitcher so far this season who's faced an exceedingly turbulent road, leading to a 6.23 ERA in just three starts.
But instead of sticking to conventionality, the White Sox went off the beaten path, unwilling to break their stride due to an arbitrary rule that says "Pitcher X goes next because, well, it's his turn." Instead, they brought up Gonzalez from Triple-A Charlotte for the task.
When the Baltimore Orioles released Gonzalez, 31, who was a large part of their winning stretch just a few short years ago, the baseball world was caught off guard. Was the red flag that Gonzalez's struggles in 2015 unfurled really unsettling enough to warrant his release? Maybe to the Orioles it was, seeing as they've watched him go from successful and reliable fourth starter in their rotation to a pitcher who'd lost a few ticks of velocity and suffered arm troubles in 2015.
But the White Sox, who were sufficiently satisfied with the wealth of rotation options they had that at one time included Erik Johnson and Jacob Turner (hey, they're bodies with arms that have thrown baseballs professionally, that's all that depth really boils down to), saw the chance to take a team's brush off and stash him away for a rainy day. They were willing to take a chance on someone who has had a resume of consistency and, unfortunately, has gathered a few minor injury-related blemishes, attempting to try polishing him off and make him their own.
In his first start of the season for the White Sox on Monday against Toronto, Gonzalez finished with an intriguing line of 5.1 IP, allowing 5 earned runs off of 11 hits, coupled with six strikeouts and two walks (both of which were issued to Jose Bautista). Gonzalez was able to reached 92.1 MPH on his fastball, something he hasn't done since returning from the his DL stint in late 2015 while in Baltimore.
Assessing Gonzalez's start, a few things need to be kept in mind. Even in his solid, pre-injury form, Gonzalez profiled as a No. 4 starter at best. His average velocity sat in the low 90s, and his FIP was consistently higher than his ERA. He's not going to be racking up the strikeouts, he'll always pitch to contact, and pitching to contact leaves much more possibility for error. What must also be kept in mind is that since his injury, he's not been the same pitcher he was previous to his time on the DL, and perhaps he won't ever be.
But that's not what matters. All that matters is what Gonzalez can do for the White Sox in the future. Though there doesn't appear to be any serious lingering injury for Gonzalez, there could be mental ramifications, including stress and concern of further injury that are not visible to the naked eye, which could have an effect Gonzalez's numbers. Lastly, though it's been noted that Gonzalez is dominant against AL East teams including the Blue Jays, and even faced them in his return from the DL and final outing of 2015, the middle of their order is still a potent force to be reckoned with. The tables were always turned a bit against Gonzalez in this one.
Taking all of these factors into consideration, we mustn't judge Gonzalez's current production against his past performances. He's a different pitcher now, but perhaps he's still a sufficient one, something the Orioles seemed unwilling to find out. Buried beneath those eleven hits were six strikeouts, which is quite fascinating when you think about it. Let's take a look at Monday's start a little closer for a bit more context.
Fastball command was the biggest issue
As is common with pitchers who get knocked around as Gonzalez did on Monday, much of the contact he gave up was on the poorly located fastballs. These are pitches which this veteran Blue Jays lineup didn't let him get away with. Check out the location on Gonzalez's fastballs during the outing:
They're almost solely in the upper half of the zone, and right down the middle. Four of the eleven hits surrendered on the night came off fastballs, including the first inning double off Edwin Encarnacion, and the third inning home run off Michael Saunders (hard contact alert!). According to the PITCHf/x data, Gonzalez only induced whiffs on 12 percent of these fastballs, but the Blue Jays would swing at the pitch 41 percent of the time. Lots of swings, lots of contact, and not a lot of whiffs. That's a bad recipe for a pitch that was thrown most frequently by Gonzalez during the start.
When they were good, his secondaries were quite effective
The most interesting part of Gonzalez's outing was that though the fastball command was a bit shaky and led to some hard contact, his secondaries — mainly his splitter and slider — were exceptional out pitches. Of Gonzalez's six strikeouts, three of them came on splitters whiffed on by Saunders and twice by Josh Donaldson, and one came on a slider whiffed on by Darwin Barney. Take a look at the sequence Gonzalez got Donaldson out on in his third trip to the plate Monday evening: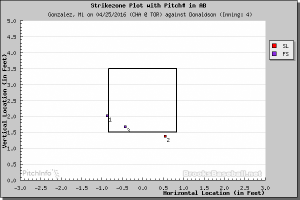 All three pitches were whiffed on. Splitter, slider, splitter. Phew.
Gonzalez induced contact for outs on his splitter and slider five times on Monday that included groundouts to Ryan Goins and Ezequiel Carrera, a line out to Encarnacion (who had Gonzalez's number all evening as far as hard hit balls go), as well as two fly outs to Goins and Barney.
But when Gonzalez made mistakes, they were noticeable ones
Gonzalez works with a carefully calculated arsenal, and sometimes, he plays things pretty close to the vest, as many crafty pitchers are prone to do. Jeff Sullivan at Fangraphs noted that Gonzalez's results can be solid, even if they could have turned out a lot worse. For example, that absolute rocket of a foul ball Encarnacion hit off Gonzalez on Monday during the third inning before singling? Total mistake pitch. A middle in splitter on a 3-1 count that could have meant serious trouble had it gone the wrong way. But hey, that pitch actually looks sort of familiar for Gonzalez, as Sullivan pointed out. These are things in which sometimes you take the bitter with the better on back end starters.
Gonzalez also gave up three hits on a few poorly located sliders and splitters, as well as some hits on his less frequented sinkers and curveballs. These are mistakes that won't be easy for Gonzalez to get away with very often, as the Blue Jays demonstrated on Monday.
Overall, considering what Gonzalez is, and that right now he's barely even in the discussion to replace a pitcher who currently owns a 6.23 ERA, he's not a bad option to have waiting in the wings. If he can decrease the amount of mistakes he lets slip and work on improving his fastball command while hopefully continuing to consistently increase his velocity, he's one team's former starter who may now simply serve as above average depth for the White Sox as needed.
As of right now, the White Sox have not made it extremely clear whether or not we will be seeing Gonzalez pitch again in the near future. But if we do, it wouldn't be too upsetting.
Top Photo Credit: Nick Turchiaro-USA TODAY Sports