Any mystery behind why Chris Sale has been doing what he has been doing this year was washed away by White Sox pitching coach Don Cooper talking to the Chicago Tribune's Colleen Kane before the game Sunday.
-On the whole tapering velocity, 'starting out in the low-80s and ramping up' gambit:
"He's adding and subtracting (velocity). He's getting them to hit the first or second pitch, and if not, he's ahead in the count."
-On trying to sacrifice strikeouts to go deeper into games:
"Last year, he was throwing well, getting an awful lot of strikeouts, but sometimes that would add up to six innings, and another job of a starter is to take the bulk of a game."
-On the confidence for this new plan coming from confidence in an improved defense.
"He's not maxing out on every pitch, every inning…Last year, our defense wasn't that good, and he felt he had to strike more guys out."
Sale was undeniably the most dominant pitcher in baseball for an eight-start stretch last year, but saw his performance and his team fade down the stretch. Now, he's set about fiddling with what he can hold back from any given start or pitch to create a better final result.
If aliens descended on the city of Chicago this afternoon, and held the city and all its citizens hostage under the threat of death unless their extraterrestrial squad could be defeated in a single baseball game, I might be obligated to tap Jake Arrieta for the start; an elite talent at the peak of his physical abilities, amid a historic run of success (though he's out of there at the first sign of trouble, I mean my God think of the stakes). But if these same violent aliens arrived and were set upon kidnapping every Chicago starter save for one that I could pick to keep on Earth and observe and appreciate, it would be Sale; the proven ace exploring the different ways he can succeed, and prodding the limits to how much or how little he can do each time.
Despite this unprecedented level of experimentation, Sale is so far surrounded by more success than he's ever enjoyed as a White Sox starter, and has a shiny 6-0 record and a 1.66 ERA after Sunday, but probably got the first significant, negative feedback to his plan, in the form of a stubborn and unforgiving Baltimore Orioles lineup.
Sitting at a lower velocity than ever, Sale was unable to translate that into increased control, walking a season-high four, and rather than cruising deep into the game with low effort, he needed to be pulled with a runner in scoring position at 112 pitches with one out in the sixth. Rather than a relaxed outing with low effort, Sale didn't have a single 1-2-3 inning.
Pitch f/x data may take a while to bear out that Sale was sitting lower than ever with his fastball, since so many of his high-80s offering were grouped as his changeup, which used to sit at that speed when he was at top velocity. But while sitting at lower speeds might save his arm, when does he cash in?
During April 15th's shutout vs. the Rays when Sale was first witnessed to be prominently using his lesser fastballs, he still went to the well repeatedly to find the high-90s when needed, maxing out at over 98 mph and eclipsing 96 several times.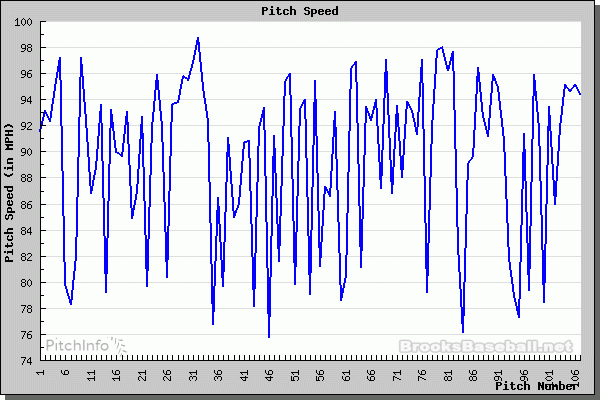 But on Sunday, Sale maxed out at 96 mph, and only did it once. Brooks Baseball showed Sale's fastball, which it classified as averaging 92.3 mph, still being as effective as his typical heater, and getting whiffs on a fourth of the swings made at it. But it classified his changeup as averaging 87.6 mph and maxing it out over 90 mph, which stands in contrast from the broadcast, which thought he barely threw his change at all, and the knowledge that he's actively tamping down his fastball. As a whole, that group had much more pedestrian results–less control, more balls in play, one whiff out of 11 swings–and combined with the loopier slurve that's most replaced his hard slider, he frequently looked like he was going to war without his best stuff, possibly willingly, and didn't have much weak contact to show for it.
At no time did Sale look more ordinary than his last war with Manny Machado, who in fairness makes a lot of pitchers look ordinary these days. After yielding hits in Machado's first two trips to the plate, Sale jumped ahead 1-2, but simply couldn't reach back and find anything with which to blow him away. Machado fouled off 96 mph (Sale's hardest pitch of the day) up and away, and was able to track and foul a slurve in on his hands, and was able to fend off lower velocity fastballs in the zone. Machado eventually worked a walk when he wasn't fooled by Sale's last attempts to have him chase out of the zone.
This battle came near the end of Sale's day, after he had already needed 77 pitches to get through the first four innings, and was looking to be economical to eke out a six-inning start, and instead pretty much sealed his fate. Maybe it's by design to spend less time and energy trying to ace all the Manny Machados of the world, but they and tough lineups like Baltimore hold the potential to derail his plan to save his maximum effort for a later date. When they did just that Sunday, the countermove was too late arriving to change the face of the outing. Sale struck out five in the fourth and fifth innings combined, but by that time, was already ticketed for a short afternoon.
Sale critiqued his performance Sunday postgame as "erratic," and it's true that better execution–and a less fickle strike zone–could have made this day seem prettier and less like a paradigm shift, where Sale has to adjust to hitters no longer primed to get themselves out early, fearing the typically far worse fate that comes with deep counts against Sale. But we have seen the benefits and what can be done when Sale neglects to burn out his A+ material when it's not needed. The next question is flexibility, and whether the strikeout king of 2015 is still available when the situation summons him.
Lead Image Credit: Evan Habeeb // USA Today Sports Images