In light of his gophertastic start on Thursday, there was a general consensus among White Sox fans on Twitter (and on this site) that John Danks' left shoulder has finally run out of useful bullets, and so its owner needs to go. Given that Danks is due a prorated $15.75 million for the rest of this year, it's hard to envision a scenario in which another team takes on his salary without additional compensation. With the deal up at the end of the year and thus not affecting any future spending, it would be pretty severe malpractice to part with any other players just to be rid of Danks.
All this leaves the White Sox in the odd position of likely releasing their longest-tenured player (nobody else on the roster was even in the organization when he made his debut) and only remaining link to the last White Sox team to make the playoffs. It wouldn't mark the end of an era as conspicuously as the departures of Mark Buerhle and Paul Konerko, but a midseason release for a guy with that much history with a club struck me as a bit unusual. So, what's the precedent for a player like this getting the boot during the season?
To answer this, we can use Retrosheet's transaction database to identify releases and waiver claims, then looked at all midseason releases since 1980 (roughly the free agency era).
One important caveat: this doesn't cover all players who were designated for assignment, only those that were released or claimed off waivers as opposed to being outrighted to the minors.
As a measure of tenure, I used the number of games played for the franchise during that stint with the team; to make position players and pitchers comparable, I treated each start as five games played and each relief appearance as 2.5.
If he were to be released, Danks would certainly be an outlier based on this metric, as you can see in the chart below. Danks is the red line, and he doesn't have too much company: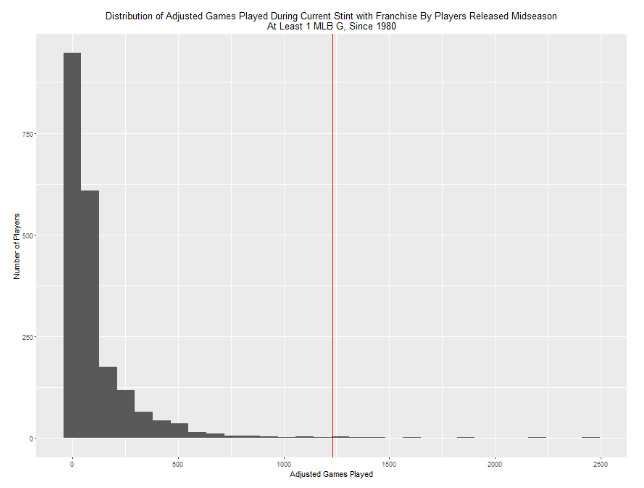 He's not unique, though, and here are the players that got released despite comparable track records with their teams (Danks' 1,230 number doesn't include his promised start on Wednesday):
Looking at the list, a few things jump out that enhance Danks's outlier status:
He's young. Only Mario Soto was the same baseball age, and Danks is actually 9 months younger for accounting purposes (April birthday, instead of July).

He's pitching in this decade. Only three of the other nineteen happened since the 1994 strike. (I'm not sure what it was, but presumably there was a structural change such that releasing veterans became much less common in the last 20–25 years.)

He's taking up a lot of payroll. Contracts from before a few years ago are very hard to compare to today's numbers, but none of the other recent players made up as large a share of his team's opening day payroll as Danks's 16% (Graves, Rueter, and Inge were at 9%, 8%, and 5%, respectively).

Another aside: for someone like me who doesn't remember 1993, it's a bit surprising that Fisk is on the list, given the reputation the White Sox have under Jerry Reinsdorf's regime for being loyal to a fault. Fisk was 45 and been fighting about

money and playing time

with Ron Schueler in the middle of a pennant race, so it's not too surprising he's the rare vet the White Sox pushed out.
Overall, then, there isn't really a precedent for Danks's situation once we take era, age, and salary into account, and even without those exacerbating factors there aren't many comparables. This has no bearing on the merits of the decision—just because nobody's done something quite like this before doesn't mean it's not the right thing for the White Sox to do. What this list does bring out, though, is how many abnormal, largely unfortunate occurrences have to pile up for a team to consider releasing a guy who could've been the face of the franchise under other circumstances.
Transaction data via from Retrosheet, salary information via Baseball-Reference, games played and age data via the Lahman database, opening day payroll information via here, Code for analysis and figures can be found here.
Lead Image Credit: Tommy Gilligan // USA Today Sports Images