| | | | | | | | | |
| --- | --- | --- | --- | --- | --- | --- | --- | --- |
| | IP | K/9 | BB/9 | LOB% | GB% | ERA | FIP | WARP |
| Player A | 45.2 | 8.28 | 1.77 | 84.9 | 40.3 | 1.38 | 2.11 | 1.1 |
| Player B | 50.1 | 8.40 | 1.79 | 82.0 | 45.2 | 1.79 | 2.75 | 1.2 |
If you're a White Sox fan, you probably know where this is going. But if you're not, the following information may be somewhat of a surprise to you.
Player A is Jose Quintana, and Player B is Chris Sale, and these are their numbers for 2016.
That's right. Although the small sample size caveat still applies for a bit longer — this isn't some sort of fluke. Quintana has been one of the best pitchers in the American League and arguably in baseball for most of his already five year career. He's just been overshadowed by Sale and his dominant numbers.
But there are a few other factors involved in the "Why on Earth has Quintana been underrated for so long?" discussion.
For one, unless you are Chris Sale, it's hard to garner attention on a national scale when you're on a team that's performed so poorly for nearly the entirety of your tenure. Quintana made his White Sox debut in 2012, the only year since he joined the team in which it finished above .500. Meanwhile, Quintana was consistently hurling 200-plus inning seasons with an ERA in the mid-to-low 3.00s.
And legend has it that there are still folks out there who put value in pitcher wins, so for those of you fabled ones, you may not have been sold on Quintana in the past because of his record-breaking bad luck. A small blip on that from a piece on CSN:
"As a result, Quintana, one of the best pitchers in baseball, has been saddled with 53 no-decisions since 2012, seven more than anybody else in baseball during that time. In 2013, he established an American League record with 17 no-decisions. That same year he set a White Sox record with seven consecutive no-decisions. If that's not enough, Quintana's seven career starts of seven scoreless innings without earning a win are the most in franchise history."
The piece also goes on to quantify for us that of Quintana's 119 career starts, the White Sox have scored three or fewer runs for him in a whopping 73 percent of those starts. Run support is something that has eluded Quintana for the majority of his time on the South Side, but is no measurement for how excellent he's been on the mound. I guess that's just another argument as to why pitcher wins and losses should have been disregarded long ago.
Things are different now on the South Side, and for Quintana. The White Sox are still one of the best teams in baseball going into second week of May, and much of that has been on the back of Quintana and Sale's efficiency and dominance. Quintana now has a 5-1 record through seven starts, already more than half the amount of wins he collected in each of the last three seasons.
Aside from the stats you see above and how comparable they are to Sale's, Quintana is also striking out 24 percent of the batters he has faced, while Sale is striking batters out at a 24.9 percent clip. Barely a percentage point difference from one of best pitchers in baseball? That's impressive. Quintana also holds the second lowest ERA among qualified starting pitchers in the AL (40 innings min.), just behind the newly acquired Tigers' starting pitcher Jordan Zimmermann.
Quintana is starting the discussion throughout baseball, and albeit a little later than he truly deserves, he's putting his best effort forward to make sure that the discussion doesn't fade.
One of the most important things to note during this run of dominance is that Quintana's velocities are changing. He may not be garnering the attention he deserves because he simply doesn't flash the same heat Sale does, but he has added 2-3 mph to his fastball this season (now touching as high as 94 mph), while simultaneously taking off 2-3 mph off his curveball (now around 77 mph). Take a look at his velocity chart from the beginning of 2015 until now.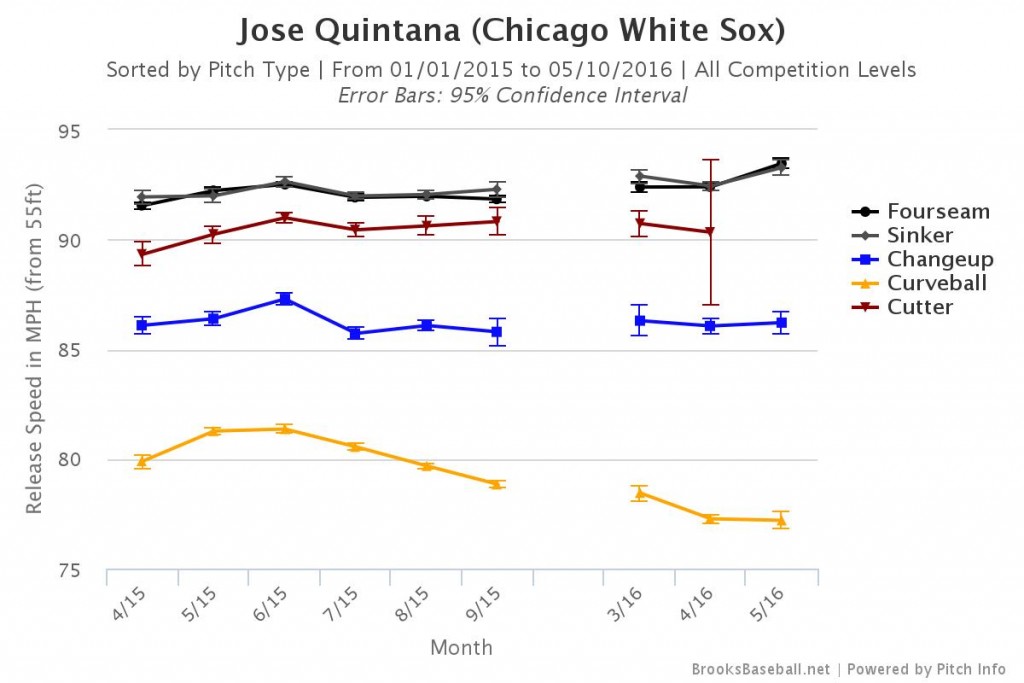 The difference in the pitch speeds from last season to now is notable, and a large piece of the puzzle for Quintana's success.
Quintana is also seeing more movement on his pitches. He's able to get better break on his sinker and he's seeing nearly two inches more vertical break on his slower, more effective curveball. Take a look, and note that not just the curve and sinker are being located lower in the zone, but all of his pitches are.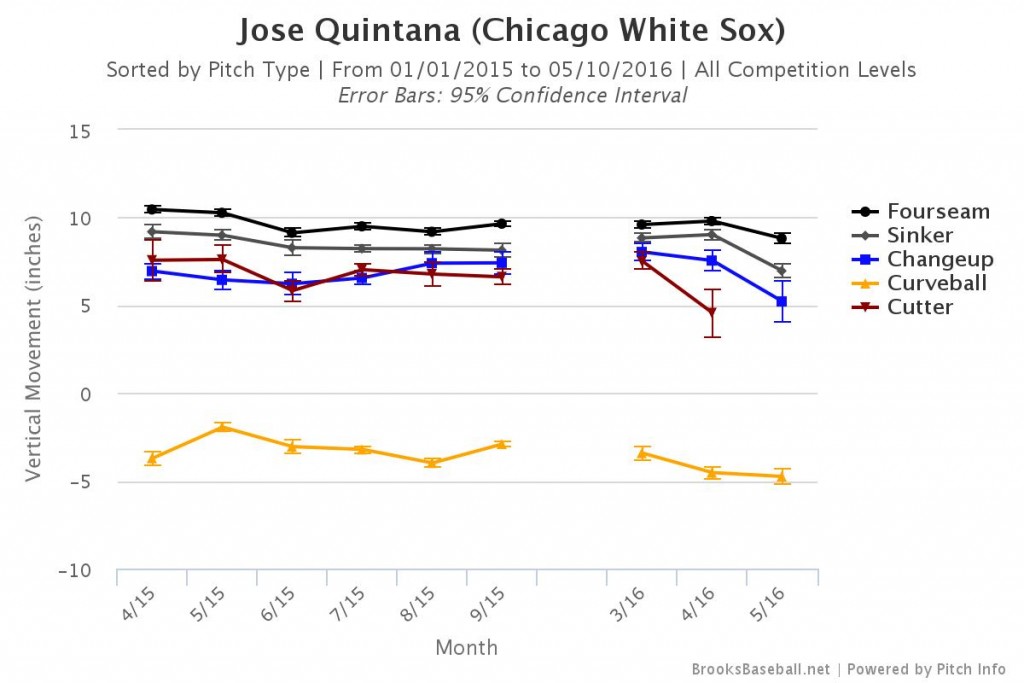 Keeping the ball low is key in reducing meaningful contact. Slower curves with more break induce swings and misses, and faster fastballs either go for strikes when well located or fool hitters into swinging at heaters they have no business offering at.
All of this happens to be the perfect storm for Quintana, as not only is he now able to better disrupt the timing of hitters he's facing with a higher fastball velocity, but he's able to quickly change speeds and eye levels in his sequences with a slower, and lower curveball, putting nearly a 5-6 MPH gap between the two pitches and even more distance between their locations.
As the season rolls on and Quintana begins to find his groove, it's possible we may see an even larger spike in his velocity on his fastball, which would send his status as an elite No. 2 starter to unprecedented levels.
Aside from his sharp repertoire and improving velocity, Quintana's versatility in this rotation is an important piece of a winning formula for the White Sox. Quintana has pitched at least 200 innings in every season since 2013, and has gone at least six innings in each of his starts this season with the exception of his season opener, where he fell one out short. Consistency and versatility matched with new levels of dominance are what will make Quintana undeniably good in 2016.
Quintana's success may likely be the tipping point for whether or not the White Sox's successful run continues down the stretch. With the the potential addition of Miguel Gonzalez to the regular rotation, should he be able to put up numbers as solid as he did on Monday night consistently, coupled with the success we've seen out of Mat Latos, the White Sox rotation could look extremely legitimate — possibly one of the best in baseball. In terms of ERA, the White Sox have the third best starting rotation in baseball just behind the Mets and the league leading Cubs (whose No. 2 starter will make just $1.5 million less than Quintana's entire five year contract in 2016 alone).
It's only May, but the White Sox acent to relevance has been perfectly timed with Quintana's push for even greater levels of dominance than his sub-4.00 ERAs and 20 percent strikeout rates presented over the past four seasons. It's time for baseball to put an end to its long run of overlooking and underrating Quintana. With Quintana posting numbers that are comparable to Sale's, and with Quintana on pace to be one of baseball's best pitchers in 2016, the White Sox have one of the strongest one-two punch in the big leagues — and you might even say that they always have.
Lead photo courtesy of David Banks-USA TODAY Sports