1. Here was my route for how the Sox would go to the break four games over .500:
5-1 vs. Twins and Braves
1-2 vs. Houston
2-1 vs. Yankees
Dropping the very first game to the Twins in incompetent fashion certainly didn't provide much hope, but the Braves are still dreadful and the Sox are slated to miss Julio Teheran, while offering Chris Sale and Jose Quintana in response. Winning two out of three against a previously surging Houston team provides some breathing room still for this scenario, as winning a series without Sale and Quintana could be a challenge, even against a Yankees team that is 17-23 on the road and has dropped five of eight.
2. I'd be remiss if I failed to mention that in the wake of my crowing that J.B. Shuck and Dioner Navarro were bad choices to fill corner outfield and designated hitter slots, Shuck went 10-for-28 over a eight-game stretch, pounded five extra-base hits, along with the deciding blooper in Thursday's rubber match with the Twins, clocked his first three home runs in over two years, while scoring and driving in six runs apiece. Navarro hasn't been quite as nuclear hot, but he was part of the homerfest against Toronto, had a multi-hit game in the series opener vs. Minnesota, and had four RBI in Saturday's win in Houston.
Simply put, if you didn't know who they were, you would not have noticed that Shuck and Navarro were not solidly above-average hitters over the last week. They are still unfit to carry such large offensive loads going forward, but if the White Sox are able to string along slightly over .500 long enough for real upgrades to come, this week will have played a significant role.
3. Let's throw out a truly bone-chilling offensive comparison for Tim Anderson, one that has several acknowledged incongruities, but sets the baseline for how much production would be great to have from a shortstop: Alexei Ramirez.
Alexei's career looks to be about over, and everyone's last memory of him was post-peak, and he had better contact skills, but less ability to turn his speed into high BABIP. Ramirez also just did a lot of quirky things in general that the next person who actually compares to him will need to be a mystery of his own.
But Ramirez, and Anderson so far, both have to hit their way on base, and are pushing themselves up in value with a surprising amount of pop. Like, Ramirez, the home run power seems like it will be predominately pull side…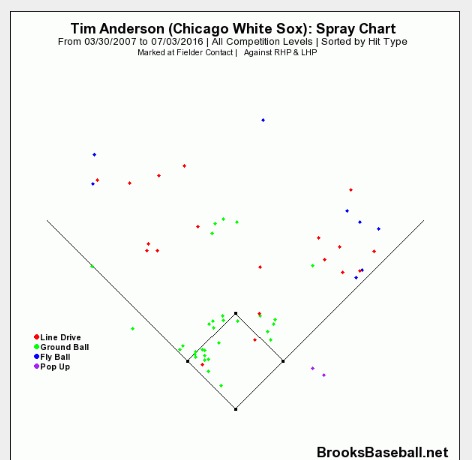 …and that having that easily reachable left field bullpen in U.S. Cellular Field will agree with him the same way it agreed with Ramirez. Ramirez touched 21 home runs in his rookie season, but after that his bat begin to slow down and the surprising pop from his wiry frame dissipated slowly alongside it.
But whereas Ramirez turned 27 in September of his rookie season, Anderson just turned 23, and the depreciating returns from his raw athleticism and bat speed is not something we really have to contemplate yet. He could flirt with the 15-20 home run range and for a longer period of time than Alexei, while still boasting speed that makes every gapper hold the potential for a triple.
He's not the natural shortstop Ramirez was and likely never will be particularly close, but the state of league offense is such that a shortstop who can reach base at a .300 clip and slug over .400 with plus speed is a franchise cornerstone.
4. July 2 has come and gone, and the White Sox have given their typical competent but not dominant showing in the International Free Agent market, which is as much as can be hope for an organization rebuilding their contacts after utter disaster and criminal activity and skimming bonuses to fund Phoenix nightclubs, and such.
Baseball America has the White Sox signing the No. 33, 36 and 37 prospects in their international top-50 rankings, as well as six others, with the jewel of their class being Josue Guerrero, the nephew of future Hall of Famer Vladimir Guerrero. These are 16 and 17-year-olds, so it's almost all raw projection at this point–though six-foot, four-inch, 200-pound lefty pitcher Hector Acosta might be more filled out than most–but international operations chief Marco Paddy still had some gushing words to offer about how Guerrero stacks up to his uncle.
"He is a very similar player to his uncle at this same age in terms of his physical makeup, his body, his swing, his tools," Paddy said. "I think, like several of these players, he has a chance to be a very special player."
So, he's basically Vladimir Guerrero, is one (wrong) way to take this.
5. Zach Putnam is playing catch from 60-feet in an effort to rehab his way back from ulnar neuritis, hand numbness, and possibly bone chips?
Once Putnam began to throw, he figured he'd get a little better idea of how the elbow had improved or changed painwise. But he certainly wasn't expecting it to be 100 percent, knowing "there's some stuff in there."
If Putnam eventually opts for surgery, it potentially could be of the arthroscopic variety to remove bone chips in the elbow. But there's no final date set in terms of making a decision on how to move forward.
If you ever think you're too invested in this 42-40 White Sox team, think of Putnam trying to pitch through hopefully just bone spurs and inflammation*.
*He also hits arbitration next year. Possibly a factor.
Lead Image Credit: David Banks // USA Today Sports Images