The built up mass, the pulsating bubble of anxiety exacerbated by every sub-replacement straggler wasting plate appearances on the White Sox major league roster while they were trying desperately to contend, deflated quickly when Chris Sale was traded to Boston last month. There stopped being a generational superstar's prime for the Sox to waste once the generational superstar left the roster, and as much virtual ink has been spilled on these pages bemoaning the folly of putting a young, unproven Avisail Garcia, the Sox giving him endless opportunities to realize his potential becomes a lot less tiresome when the stakes are kicked to the ground.
When the rebuild was first signaled, I thought it was basically Christmas for Carlos Sanchez, Leury Garcia, Rymer Liriano, Tyler Saladino, Garcia, and every graduated but blocked or stalled mid-tier White Sox prospect. But while these are opportunities are to be handed out pretty freely, the Sox sending out the polished but low-ceiling Jason Coats showed they are a least a little bit choosy on how they dole out 2017 plate appearances. While we understand hoping that stalled, older prospects to break out is a long shot, just how much of a longshot is something worth nagging Ethan Spalding into running queries for.
Avisail does not turn 26 until June, and Liriano is just eight days younger. Leury turns 26 in March, as does Matt Davidson. Omar Narvaez and Sanchez are both a year younger. They are all longshots, but Garcia is the one that stretches the parameters the most. To that end, inspired by Garcia, who sits at 1.1 career WARP at this point, here's the highest career WARP for players who at age 25, had 2 WARP or less.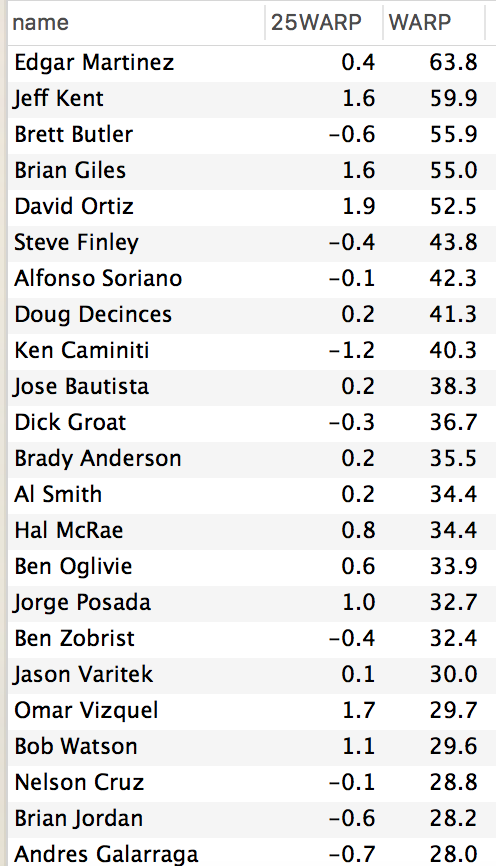 So, obviously there's plenty of hope here. A lot of late debuts, or guys that flopped in very brief debuts, went on to be fringe Hall of Famers. But age has always been a factor cited by those still hopeful for Avisail, whereas our cynicism has lay in how much he has already struggled at the major league level over his 1,551 major league plate appearances. So, here's the same search with the added condition of anyone included has to have reached 1,500 plate appearances by age 25.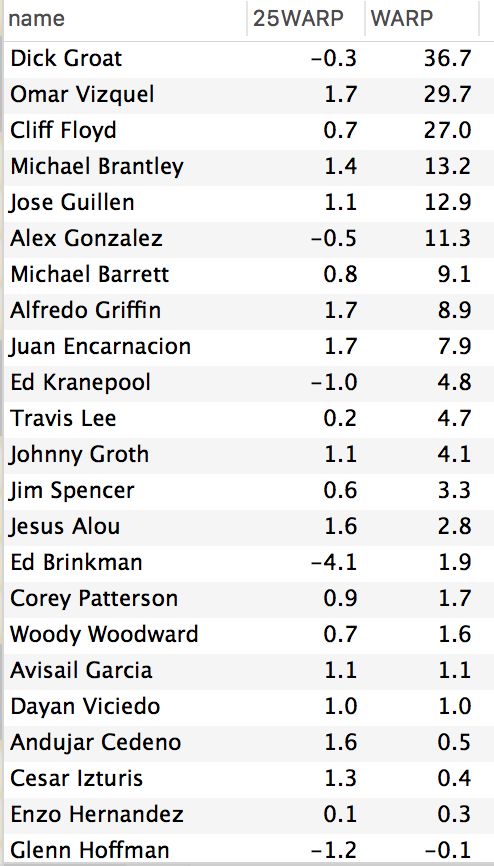 There's a lot less hope here, and not just because Garcia is already on the top-20 by these parameters and is placed right next to Dayan Viciedo by a twist of fate. Cliff Floyd is a decent enough ray of hope, since he debuted early at 20, hit inconsistently while dealing with injuries and his fits of progress on offense were undermined by defensive struggles, but Jose Guillen, a total toolshed who was totally confounding until settling into a nice prime in his late-20, early-30s, seems perfect. Michael Brantley's early career offense was bad, but he was hampered by a need to be moved out of center in a way that Avisail never was.
But much of this group is not a good comparison with Garcia because he cannot recoup value by becoming a plus-fielding shortstop like Dick Groat, Omar Vizquel and Alex Gonzalez, or a catcher like Michael Barrett. While there has been some more optimism about Garcia playing an outfield position of recent, his usefulness is pretty clearly defined by whether or not his bat (a career .250 TAv [true average] at this point) ever develops.
So I asked Ethan to query for the highest TAv for players who had a TAv of .250 or below, at age 25, with 1,500 or more plate appearances. Ethan immediately pointed out that this was dumb, and I would wind up someone who went 1-for-2 with a walk after they turned 26 and then stepped into another dimension, never to return. He also pointed out I would get Jean Segura, who could very well could have been a BABIP mirage in 2016. As such, Ethan decided to only include players with 1,000 plate appearances after age 25.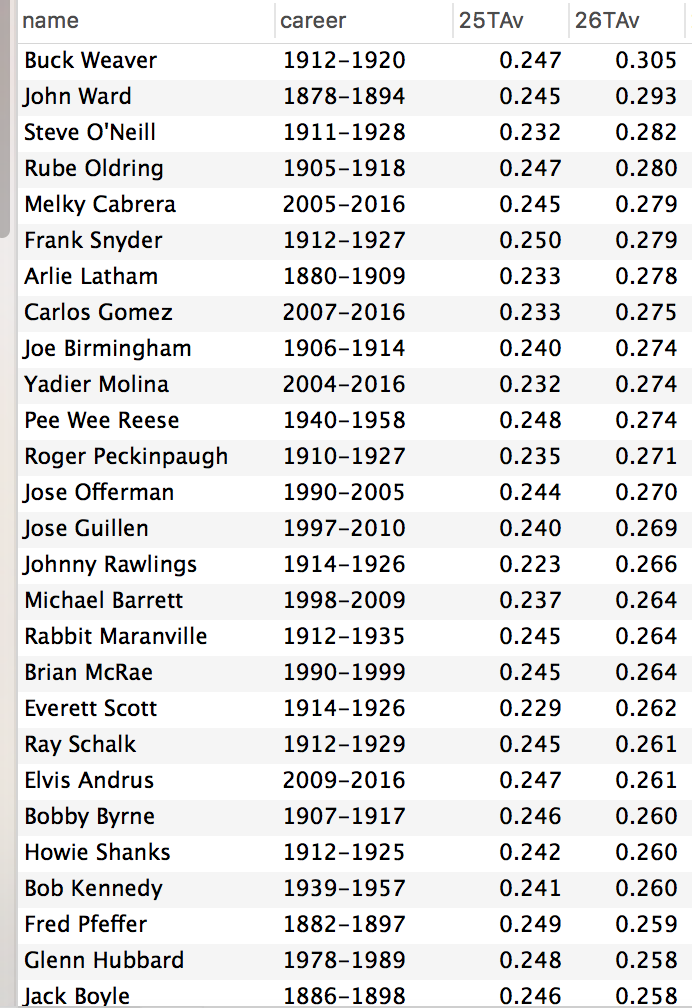 Guillen is still there, and Carlos Gomez and Yadier Molina, two defensive mavens pushed up well before they could contribute anything on offense, represent some of the only names on here who played after women's suffrage was passed. But Melky Cabrera, another toolsy early debut guy who struggled with inconsistency and conditioning before rounding into form, is so obvious I hate myself for getting through this whole article without addressing him before. Cabrera has some of the best bat-to-ball skills in the game, peaked at 18 home runs in career, and was a full-time centerfielder at age 26, as opposed to a DH at age 25, so they're still sorta (extremely) different.
The top of the scale is still on the table for even an older prospect who hasn't gotten a chance yet, even if we have plenty of reasons to doubt Liriano, have only a tinge of hope that Sanchez or Leury would be even light hitters in the big leagues and possess little confidence that Davidson made significant progress in Triple-A, there's a reason that air of untapped potential is more inviting and intriguing.
Garcia turning into something is still possible, but his struggles are indicative that the ceiling he first entered the league with has significantly lowered, and we can count on one hand similar projects that meaningfully reversed the course of their offensive progress at this stage. Just as striking, is that one team sticking with that project the whole way through, while it's not providing any current value, is virtually unprecedented. But at this point, with a rebuild pending, the absurdity of the Sox commitment doesn't matter anymore, it's jut bizarre.
Lead Image Credit: Jordan Johnson // USA Today Sports Images