Carlos Rodon has flashed utter brilliance during his first two full professional seasons. The problem, however, is that it has come only in flashes. For a week or a month at a time Rodon dazzles us with his dominance on the mound only to have it followed by stretches of complete disappointment. His hot streaks are like driving a new Maserati down a dead end street. They're faster than the wind, passionate as sin, but they end so suddenly. If he can drudge forward through the muck of his first two seasons and find consistency, we might finally see the Rodon we all dreamed of on draft day in 2014.
Rodon's struggles over the past two seasons have been well documented. He failed to hit the strike zone during most of his 2015 campaign, which led to hard hit balls and a ton of walks. His 3.75 ERA wasn't bad for a first year player but was much higher than anyone would have liked. It was inflated mostly due to his 11.7 percent walk rate and 1.44 WHIP. Yet, during that season he still managed to show good signs for the future. He struck out 22.9 percent of batters faced, showing progression as the season went on and he found a battery partner in Tyler Flowers. Everything signaled that 2016 would be the breakout year.
Then Flowers was non-tendered, a new set of catchers with no receiving skills and unfamiliarity to the young lefty arrived, and Rodon's progress from the season before was shot. With new battery mate Dioner Navarro calling and catching the pitches, Rodon saw his improved changeup disappear from his repertoire and received no help in terms of framing. His ERA ballooned to 4.04 for the 2016 season despite having a fantastic final two months. Those fantastic two months were, unsurprisingly, mostly because of a change in catcher and subsequent increase in the changeup and ability to get batters out from both sides of the plate.
Inconsistency has truly been the tale of Rodon's first two seasons with the White Sox. Some of that is to be expected. After all, what his progression we're seeing now is often hidden in the minor leagues. However, the moving parts behind the plate certainly haven't helped the young southpaw gain any momentum for a long period of time. Take a look at his pitch usage over the past two seasons, courtesy of Brooks Baseball. It's riddled with inconsistencies.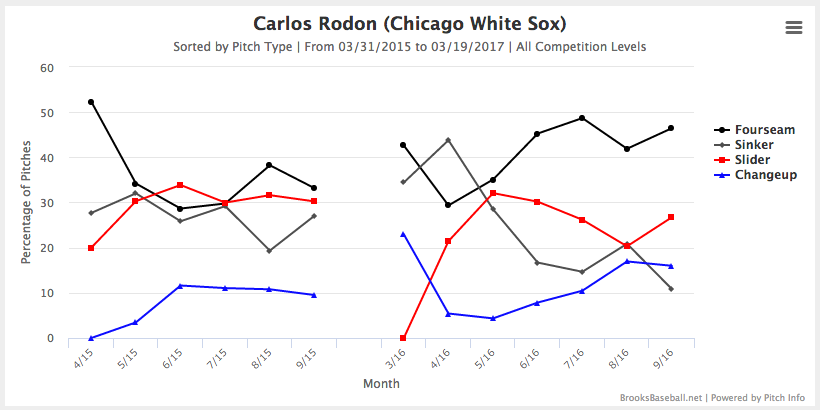 Some of this is natural. Take a look at any number of pitchers' usage graphs and you'll see some similar peaks and valleys. In order to remain unpredictable, pitchers waver in their preferred method of getting hitters out. However, Rodon's is particularly erratic for such a short amount of time spent in the big leagues.
It appears as though Rodon has finally settled into a repertoire that he feels comfortable using to attack hitters. A good portion of this breakthrough can be attributed to consistently being paired with Omar Narvaez throughout the second half of the season. In that second half, he saw his ERA dip to just 3.45 while he also struck out 77 batters in the span of just 73 innings.
There is other good news as well. Rodon made heavy strides in terms of reducing walks from 2015 to 2016 as he shaved his walk rate from 11.7 to 7.6 percent despite being paired with the worst framing of his professional career. He also saw a dip in cFIP and DRA from 98 to 87 and 4.57 to 4.13 respectively. Those quiet improvements suggest that Rodon has indeed managed to get better over the past two seasons. It also hints that he's on the verge of a true breakout season.
While there have been some injury concerns and rumors because of the lefty's odd spring regimen, Rodon appears to be healthy. He made his first Spring Training start Sunday, where he pitched four innings while striking out five, walking one, and giving up just a single hit. The timeline for his appearance in the major league rotation still remains unknown; however, it doesn't appear as though there's reason for serious concern over his arm.
With little to no pressure on Rodon to fill a certain role this season, he can finally make the complete breakthrough we've been expecting since soon after draft day. The potential to be a top of the rotation starter remains within him. We were in this same scenario a year ago, but Rodon has managed to make even more improvements in the interim. Consistency in both his pitch usage and command could allow him to finally fulfill the hopes that White Sox fans have had for him. That would certainly be helpful if he winds up being the top starter on the staff by the end of the season. This year will be the one where Rodon finds his stride and pitches well for the duration of a season.
Lead Photo Credit: Joe Camporeale-USA TODAY Sports