There was never much of a doubt heading into the season that the White Sox offense would be one of the weaker aspects of the team. Even if the expected above-average contributors — Jose Abreu, Melky Cabrera, Todd Frazier, Tim Anderson — performed at or around their median expectations, there were far too many unknown quantities in the lineup to expect everything to break right. In the likes of Matt Davidson, Omar Narvaez, Tyler Saladino, Avisail Garcia, Leury Garcia, Yolmer Sanchez, Cody Asche, Jacob May and Charlie Tilson, Peter Bourjos, Willy Garcia, the likelihood of a majority of them performing well above their median expectations was miniscule.
The performances to date of each of these players, in both groupings, has varied considerably this season. For instance, Avisail Garcia has been the most productive offensive performer by a pretty wide margin through the first 32 games of the season and Davidson has been better than expected for the most part, while Anderson and Cabrera have been among the worst. But regardless of how individuals have over- or under-performed expectations thus far, one fact remains the same: The White Sox offense is bad.
This is true by both traditional measures and if you dig deeper. The White Sox are second-to-last in the American League in OPS, ahead of only the Kansas City Royals. They're dead last in walk rate, 13th in slugging, tied for 13th in wRC+, 14th in TAv, and last in home runs. Likewise, their hard contact rate is last in the league at 26.6 percent, and they're hitting ground balls at the fourth highest rate in the league.
But this is nothing new. The White Sox have been bad on offense for a while now, and this year's rankings thus far fall pretty well in line with those from a season ago.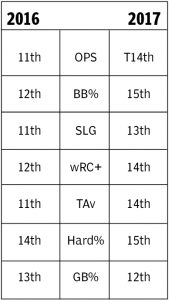 As you can see, while the White Sox rank in the bottom five of those seven categories this year, they also did a year ago. This isn't going to surprise anyone because A) we already know the White Sox were bad last year, B) there wasn't much offensive turnover from 2016 to 2017, and C) they're not trying to compete this year. However, it does at least illustrate the distance the White Sox have to go in building a competitive offense.
The solution appears to be in the works, with Anderson (despite his slow start) the first developmental success the system has produced offensively in quite some time. Supplement him with Yoan Moncada, Zack Collins, and maybe even Luis Alexander Basabe in years to come, and the White Sox will have the makings of an offensive core core if those players' respective developments come to fruition. Developing those players and other unheralded talents into offensive pluses will also depend on consistency in the coaching ranks, where Todd Steverson, Mike Gellinger, and the rest of the staff have their work cut out for them, but seem to have built a developmental foundation the White Sox have lacked for some time now.
The fact that the White Sox, even amid a five-game losing streak after Thursday night's 7-6 loss to Minnesota, are still 15-17 with a run differential of plus-2, is somewhat of a miracle when you consider the offensive shortcomings and the fact that they've been without the likes of Carlos Rodon, James Shields (who showed positive progress in his first few starts), Nate Jones, Zach Putnam, and Jake Petricka for various lengths thus far.
But that just goes to show what a solid foundation like the White Sox have had under Don Cooper can do for a team's unit. The White Sox hitting foundation has yet to be built, but the base is there. It's just going to take a while longer for the fruits of their labor to start showing at the major league level.
Lead Photo Credit: Caylor Arnold-USA TODAY Sports