Lucas Giolito has now made six starts with the White Sox. He's seen good results, posting a 2.58 ERA in 38.1 innings pitched with a somewhat disappointing 19.0% strikeout rate. This has come after his precipitous decline in prospect rankings where he went from potential ace to someone that could end being merely good in the bullpen. The White Sox, of course, do not care what the prospect rankings in the public sphere say. They're going to give Giolito every chance to succeed as a starter, and so far he's done exactly that. But the question that is always in the back of our minds is whether this is real and can continue beyond just the first 50 or so innings of Giolito's career.
Finding the answer to that question lies in finding why Giolito has seen success in his short time in Chicago. First and foremost, the 0.99 WHIP and .188 average against have helped. Hitters aren't squaring him up well, and he's had solid command of the zone. As with most pitchers, having a well-established fastball is the key to pitching well. Giolito is no different, and despite his decreased velocity from his early years in professional ball he's been deceptive and quite good with the pitch. At times the success comes from strong downward plane thanks to his large frame, and at other times it's his ability to do exactly the opposite by placing it up in the zone. His ability to change eye levels with the pitch fundamental to his success has been crucial.
The fastball has been good in each of his starts. That's the foundation, and it has helped him see success regardless of how the other pitches look. When he's at his best, though, he has at least one of his other pitches working. Surprisingly enough, more often than not that pitch has been the changeup. Giolito's strong prospect prowess was due almost entirely to his strong fastball and hammer curve, and his changeup was always considered to be a work in progress. In a small sample, he's seen incredible success with the pitch in Chicago. It has generated swings and misses 18.6% of the time he's thrown it. His other secondaries have shown themselves at times as well.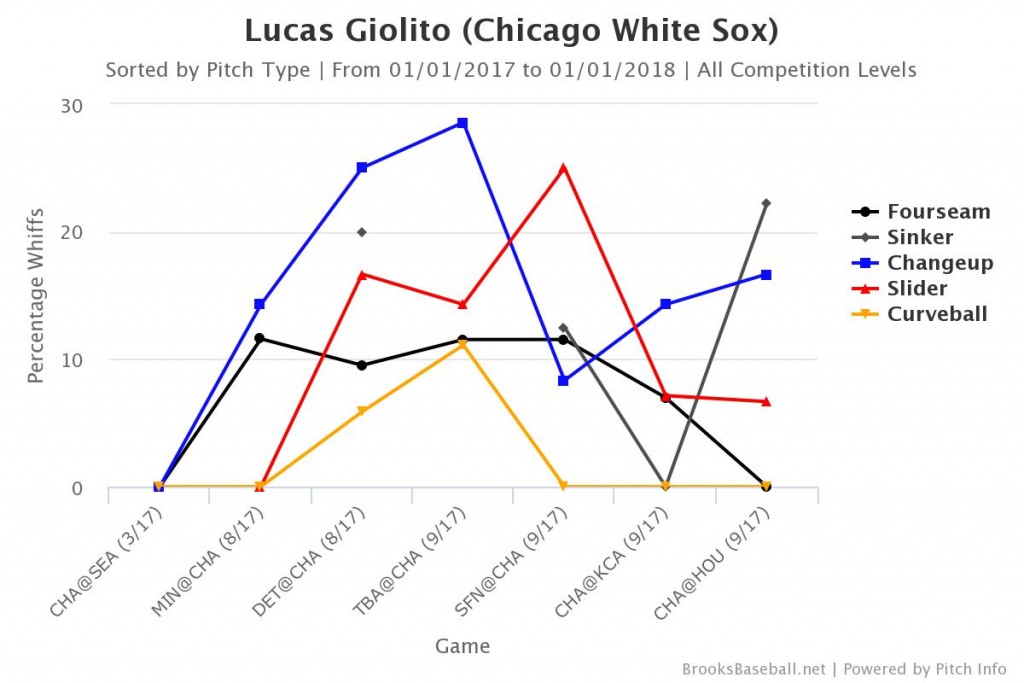 The chart above shows that during his two best starts, against Tampa Bay and San Francisco, he had at least one of his secondaries generating whiffs at a good rate. He had ten and five strikeouts in those games respectively. Without even looking at a chart with concrete data, it was easy to see that he was looking good. He was changing eye levels with the fastball, fooling hitters with the secondaries, and keeping batters guessing to generate strikeouts and weak contact. It's really that simple. It's that simple because he's been able to command the ball well, posting just a 7.8% walk rate despite some thinking that may have also been a flaw in his game before he donned the black and white.
When he's lacking the changeup, slider, or curveball he struggles to rack up the strikeouts. His last two starts have seen a decrease in performance from those secondary pitches, which has resulted in just three strikeouts in each of those starts. He's managed to work through those starts to see success, but that's certainly one area where he might see some regression. A pitcher's ability to generate soft contact is still something that's hard to quantify, especially in such a small sample, so there isn't a whole lot that can be said about that part of Giolito's game.
The best version of Giolito comes out when he's able to strike batters out. That happens when he has a good feel secondary pitches. The best example of a great feel for those pitches was in his start against Tampa Bay, when he posted a career-high ten strikeouts. He can also see success when those pitches aren't working by generating soft contact, but it remains to be seen whether that ability is sustainable or not.
Giolito has been extremely encouraging during his short time with the team. At times he's flashed the brilliance that convinced many that he could be an ace in the future. When he hasn't been flashing that high-end stuff he's been able to push through to provide good starts. Both of those things seem to point towards him becoming an effective pitcher in the middle of a future White Sox rotation. It's been a very short time to make such a conclusion on, but it seems like the White Sox have gotten a solid contributor to a future rotation in Giolito, regardless of if it's as a number one or lower in the order.
Lead photo credit: Troy Taormina-USA TODAY Sports