1. Jose Abreu's OPS for the month  May is nearly 100 points better than it was in April, and if he's lucky, it will only be the third-worst offensive month of his career, rather than the second. He came into this season with three months in his career where he had hit as few as three home runs. Unless he homers on Tuesday, he will have five.
This is all reporting about the smoke from a raging fire that everyone can see. Abreu does not look dangerous, or in control of the strike zone the way he once did. We have talked in the past about how pitching approaches have emphasized going inside on him more, but the prevailing takeaway from most Abreu plate appearances these days are not him getting tied up, but failing to punish pitches he was once capable of demolishing.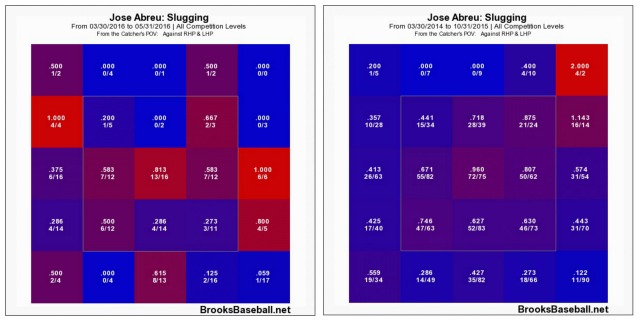 Again, this is a bit of an obvious graphic, showing that Abreu is slugging less during a down year, but the are of the strike zone he dominates and need to be feared inside of has really shrunk, and his ability to hit pitching at his knees has cratered. It's all deeply troubling stuff for an offense built around him this season and for future ones.
2. Now that we have established the main culprit, we can switch back to Robin Ventura burning away a scoring opportunity in the seventh inning of Tuesday's 1-0 loss. With his first two runners of the inning on and his 3-4-5 of the lineup coming up against starter Matt Harvey, admittedly blowing smoke but near the end of his day, Robin Ventura had Melky Cabrera bunt, essentially tasking Todd Frazier to execute or else, since he had for some reason put J.B. Shuck–called up just Monday–in the No. 5 slot.
Perhaps in reverse order, where there's such low confidence in Shuck that Ventura takes a productive out from him rather than risk something less, this is understandable. Instead, Ventura punted on one of his best matchups of the inning–Cabrera, a plus hitter whose main downside (power) is neutralized with Adam Eaton on second–to place more leverage on Shuck. In the name of "executing" it really just placed everything on a single Frazier plate appearance, which is suddenly placing your 'power-first, everything else third' cleanup hitter in the role of needing to make careful contact.
But all that aside, where things really get screwy is the justification, where Ventura openly said he was playing for one run in the seventh inning of a 0-0 tie. Imagine sitting through the Sox bullpen performance in Kansas City and playing for a single run with nine outs to go. Maybe that's the kind of poise that earns Ventura his praise, because I cannot imagine that level of zen.
3. Frazier went ahead and defended the call for the bunt after the game and blamed himself for not executing, because what kind of player would he be if he failed in a big spot and turned around and blamed his manager for putting all the eggs in his basket?
And Joe McEwing vouched for Ventura for the preparation level and resilience of the team, as he is obligated to do given the opportunity, since insisting you're resilient is the first step to actually being resilient.
The clear devotion and faith in Ventura held by players and staff is apparent, to his credit. The question is whether it's a significant credit when there are none of the tangible results present that would typically be the benefit of such revered leadership.
4. In a fun bit of irony, the White Sox bullpen is still ranked fifth in the AL in ERA despite this month's wretchedness, and right at the top in first place with just 3.69 runs allowed per game.
Where you start seeing evidence of their troubles is the third-worst rate of inherited runners scoring at a 39 percent clip, which is an order of magnitude worse than the rest of the AL herd. While the Sox relievers have been good at avoiding home runs and other sources of major damage, they have the fourth-worst strikeout rate, which makes it hard for them to escape situations with runners on. When Matt Albers and Dan Jennings are leading the staff in relief innings, this is the sort of thing that will happen. An early-season sensation, Albers is normally a low strikeout guy but hasn't even been generating groundballs like he used to, where as Jennings looks doomed to be someone who looks like he should be more effective than he is, and mediocre lefty who doesn't excel against lefties probably has less utility than even Matt Purke.
These are very easy guys to push aside, as usually bullpen fixes require something onerous like "replace the closer" or "find a setup man" rather than stop throwing the second lefty and the Opening Day longman into high-leverage situation. As has been pointed out, David Robertson has more blown saves than someone with his numbers and stuff would typically, but the slate of guys in this group who look like they should be fine over the long haul far outnumber those who looked overmatched and overpromoted. Zach Putnam in particular–striking out over a batter per inning with the lowest walk rate of any bullpen regular–looks like someone who should getting seventh inning opportunities.
5. Mat Latos, who is tasked with helping end a seven-game losing streak Tuesday, has the lowest strikeout rate of any pitcher with over 50 innings pitched this year, the lowest whiff rate on his four-seam fastball of anyone who has thrown over 200 fastballs (by a lot), and his slider whiff rate–though better than Chris Sale's–is the second-lowest of his career.
Sale can use his slider to grab strikes in loopy, slurvy fashion because he can touch 97 mph and get his swings and misses in a lot of ways. We've already noted how tanked Latos' fastball is, so his most frequently-used breaking pitch being on the downtrend as well is a bad sidebar to the bad main story. Somehow he's squeezed five quality starts out of nine outings with this recipe, so that puts him over Erik Johnson, but this is not a very sustainable option.
Lead Image Credit: Adam Hunger // USA Today Sports Images