This is definitely low hanging fruit, coming on the heels of the White Sox extending their scoreless streak to 32 innings, but really, this humiliating stretch just highlights something that has been true all year, and seemed very likely all winter–the offense is Really Bad.
Here's a quick snapshot of their hitting as a whole: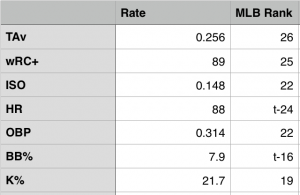 They're just…bad at everything.  They strike out at an above average rate (I ranked the lowest K% as 1 and the highest as 30), yet that swing-and-miss profile doesn't yield above average power.  They are walking more than they have in the past, but not enough to prop up their otherwise low power and low contact proclivities.
So far this season they have been held to two or fewer runs by the following mediocre-to-bad-to-horrible pitchers: Clay Buchholz, Dillon Gee, Ivan Nova, Cody Anderson (x2)*, Hector Santiago, a Matt Harvey who could not feel his fingers and now may never pitch effectively again, Yordano Ventura, Jered Weaver, Erasmo Ramirez**, Mike Pelfrey, Mike Foltynewicz, Mike Fiers, and Kyle Gibson.
*In fact, out of nine appearances in the majors this year, Anderson has shut down the White Sox twice and then gotten absolutely annihilated in the other seven.  They are literally the only team he can pitch against.
**Out of 36 appearances this year, Ramirez was only allowed to start one game.  He threw nearly six innings of shutout ball.
This is hardly scientific–I am just listing pitchers that I consider to be extremely beatable, chucking out good starts against them of less than 5 innings, and I'm not even including last night's vivisection at the hands of Matt "Still Moonlights in Salt Lake City for the Angels" Shoemaker–but that list alone represents 15.5 percent of the games the White Sox have played this year.
By contrast, the Indians have a roughly league average offense, sitting at 16th in MLB by TAv, and it looks like they've had six such similar games where they were shut down by a weak pitcher.*
*Ian Kennedy, that same Mike Fiers, Tyler Duffey, Joe Kelly, Derek Holland, and Wade Miley.
This is just one way an offense can fail, but this is my response to yet another embarrassing outing by the offense that has been defended by some who say, "Well, Shoemaker was just dealing yesterday." And maybe he was! But I find it hard to believe that one fringe major leaguer after another just happens to have the game of their life against the White Sox on such a consistent basis.  It really is, in fact, the offense's fault.  And if you're going to dig yourself a hole against the dregs of the league, it's hard to imagine that you'll make up the ground against actual good pitchers in the other games.
I suppose it isn't surprising–the lineup has a modest high end trying carry dead weight at multiple positions.  The primary DH is the 12th worst hitter in the majors, and there's only one qualified hitter in all of baseball worse than him who isn't a shortstop, catcher, or center fielder.  That's on top of punting offense at catcher and center field, and shortstop only recently getting upgraded.
Even marginal major leaguers can have really great games on any given day, and sometimes you just get beat. And, over the course of a season, every team will have multiple games where they just can't put an attack together against bad pitchers.  That's fine.  The problem is, virtually every major league pitcher has a way of getting hitters out, and at a certain point you have to acknowledge that the White Sox play 162 games against other major league teams and they cannot afford to get eviscerated by mediocrities with such regularity if they want to sniff the playoffs ever again.
Lead Image Credit: Patrick Gorski // USA Today Sports Images