1. Doubts about Todd Frazier's ability to maintain his performance over the second half of the season will not be resolved until he pieces together his first set of post-All Star break splits that are superior to his first half in his career. But he certainly didn't get off to a good start this weekend by going 2-for-12 with four strikeouts in Anaheim.
Beyond his underwhelming .239/.296/.411 career second half line, Frazier's disappointing 2013 was the only full season in which he didn't see at least a .125 OPS drop after the All-Star break, and he just put up his worst first half since that 2013 season. That, combined with hysteria over the post-Home Run Derby hangover theory, and his position as the cleanup hitter of a flagging offense, and Rick Hahn's most prized acquisition of the offseason will also be his most scrutinized piece in the second half.
Frazier's swing looks like it was destined for streaks, and possibly declining returns over a grueling season. He has a long, violent whip-like motion across his body that is built for power over contact, and he keeps his lower half closed in a manner that puts a lot of onus on his upper body strength–which is clearly plus–to drive the ball. Maybe that swing is wearing him down over the course of the season, and maybe separate, or entirely discrete issues are troubling him every time.
Frazier is 30 and hasn't found a way to finish strong yet in his major league career, and mirrors his team in that way, as the Sox have yet to post a winning record over the second half since 2010. Until they find a way, any inherent quality about their identity will be open to scrutiny.
2. Avisail Garcia is traditionally a better second half hitter, but since he has not hit a home run since May 28, and early returns on Justin Morneau have shown a lot hitterishness, he's unlikely to get a big opportunity to act on it. Also, his stronger second half splits are still under a .700 OPS, so there's that.
Jose Abreu also has traditionally thrived in the second half, but has found himself in a similar power drought, and is 70 plate appearances removed from a three-run bomb over the Green Monster that looked like the slugger rounding into his old shape. To some degree he's been fine, and is closing in on posting another month with an OPS over .800, but has hit just five home runs in the last 50 games, as being unable to deal with, let alone drive pitches at his hands have hampered his ability to consistently to force pitchers to the outer half where his all-field power really shines.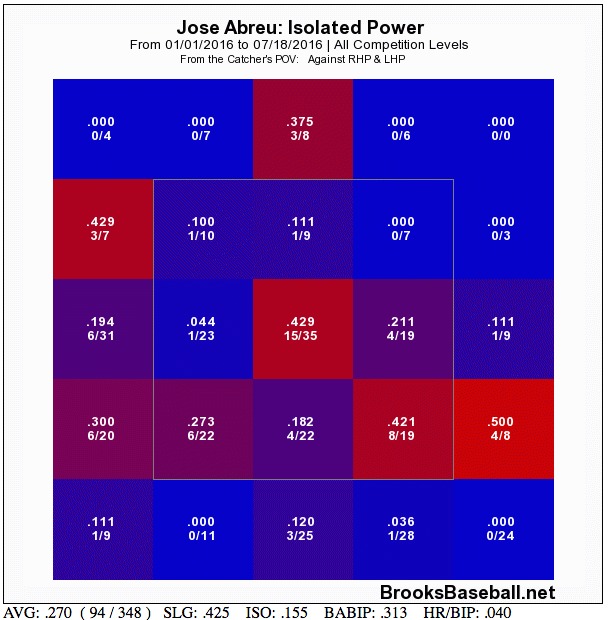 He certainly has the hit tool to be a decent option even if his power remains modest, but he's cast as the elite bat that's supposed to redeem the rest of the offense, and he's not currently capable of doing that.
3. There hasn't been much in the way of official acknowledgement of Austin Jackson having an extended injury timeline after Ken Rosenthal's report, as speculation about injury recovery times is not really something a team should do on an official basis.
Sources: #WhiteSox, unsure of Austin Jackson's prognosis, are checking into possible trades for CFer. Jackson had knee surgery on June 10.

— Ken Rosenthal (@Ken_Rosenthal) July 14, 2016
Something something…symbol that means both crisis and opportunity, if the Sox are committed to fixing the DH slot with Morneau, securing a centerfielder who can be part of their 2017 reshuffling of the same core could serve purposes both short-term and…slightly longer-term. Jackson allowed Adam Eaton to flourish in right field, but wasn't a good option for next year even before his knee became a concern. J.B. Shuck has been doing a credible offensive impression of Jackson, which is a mild complement since Jackson could be described as 'glove-only, but should still make them question their commitment to waiting out his return.
Of course, if obvious sellers were flush with things as valuable plus-hitting centerfielders, they probably wouldn't be obvious sellers. Easily identifiable candidates beyond Charlie Blackmon are hard to come by, and while he would likely be hard to swing given that the Sox' top two prospects are very needed contributors to the current 25-man roster, that's the type of guy who should be in their sights for the next year and a half of baseball.
4. Speaking of Carson Fulmer, he looked every bit the vital bullpen upgrade in his two-inning scoreless debut. He sat 93 mph and chucked a four-pitch mix at an admittedly barren Angels lineup and missed bats with everything. The violent delivery looks built for the bullpen but the stuff looks rotation-worthy.
So, that's one emergency that's become slightly less emergent, but with Zach Putnam's test of his elbow off the mound earning the verdict of "I don't know, it didn't feel great," the Sox bullpen is a bit short of playoff-ready still.
5. Concerns about Zack Collins completing three of the worst games of all-time in Arizona Rookie League have been revealed to be premature as expected. He's looked a lot more like a polished college bat against High-A pitching, and has clocked two home runs in his first three games while walking more than he's struck out.
The other Zach in High-A, tall right-hander Zach Thompson, was not overwhelming but managed to not get tagged in his second start since getting a mid-year promotion (5.2 IP, 5 H, 1 ER, 2 BB, 4 K, 1 HR). A big, powerful fastball with life coming out of a six-foot, seven-inch frame is his primary claim to fame. As someone who mostly finds him intriguing as a potential reliever, I have mixed feelings between being encouraged at how long he can be effective as a starter, and eager for what would likely be a rapid rise in relief.
Lead Image Credit: Jayne Kamin-Oncea // USA Today Sports Images