There certainly hasn't been a lot to smile about on the South side recently. Watching the White Sox has been just short of painful many nights, which tends to drown out the positive aspect of certain things such as "Hey, look over there! Miguel Gonzalez has been really consistent lately!"
That's been quite a truism as of late. Behind Jose Quintana and Chris Sale, Gonzalez has quietly emerged as the White Sox rotation's third-best pitcher in the month of July.
In April, after Gonzalez's first start in Toronto against the Blue Jays and their behemoth offense, I wrote about how Gonzalez was very much a "it is what it is" option for the White Sox. Maybe he would get better, but if he didn't, that'd be okay.
Well somehow, through the haze of despair that is the 2016 White Sox, he has gotten better. A lot better.
In July, Gonzalez has pitched to a 2.76 ERA while allowing a slash line of just .200/.256/.333 against him; his lowest during his career in a White Sox uniform.
His strikeout rate in July is up to 20.2 percent while his walk rate is sitting at just 6.2 percent, his BABIP is now just .231 (down from .321 in June and .279 in May) and his FIP is below 4.00 for the first time all season (3.57. It's still a bit high because of his tendency to give up home runs; he's surrendered three in July).
Not just that, but in the month of July, Gonzalez has done something that even during his best moments with the Sox, didn't always seem attainable: he's gone six innings or more–including two games in which he lasted seven–through all five of his starts in July. He's walked no more than two batters in each of those starts, while only allowing a maximum of three earned runs, and even went so far as to strike out eight Cubs batters on Monday evening; an impressive feat for any pitcher of Gonzalez's recent caliber.
Something clicked for Gonzalez, and whether or not it stays it something that the White Sox will have to hold their breath and wait to find out, but let's take a deeper look into what exactly it was that's turned around for Gonzalez in July.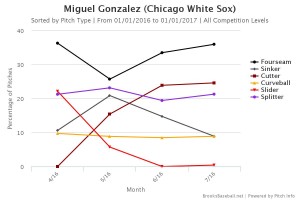 Take a look at Gonzalez's usage map on the season. In July, he's drastically cut the rate with which he is using his sinker. The sinker has been Gonzalez's fourth-most frequented pitch on the season, but it's been the biggest trouble maker for him along the way.
Gonzalez is seeing the a .333 batting average against, an unsightly .561 slugging average against, a .228 ISO, and .364 BABIP on his sinker, the worst numbers on any of his six-pitch mix.
Gonzalez has cut down to using the pitch just under nine percent of the time, in favor of more splitters, cutters, and fastballs. For now, that seems to be working out quite well for him, even though Gonzalez still has a fastball that sits around 92 mph (though the pitch did top out around 95 mph in June, so there is something still brewing for Gonzalez in the way of velocity.)
Of course, there are surely other nuances to pitching that are contributing to the recent success Gonzalez is seeing, it can't all be attributed to his declined sinker usage, even if it seems to be a large contributing factor. The question now becomes, how long can Gonzalez survive, especially if he's looking to continue his lengthy starts successfully, on what has now basically become a three-pitch mix comprised of a 92 mph fastball, an 87 mph cutter, and a splitter? The third time through the order will continue to be a roulette wheel for Gonzalez without a fresh, sharp off-speed pitch to break out.
With the current state of the White Sox, the recent success Gonzalez is displaying, and trade deadline week upon us, the White Sox are at a crossroads. It's been circulating that teams have already been scouting Gonzalez, and with the recent success he's probably on more than just one team's radar. But even with the success he's had, is he going to merit enough value to trade him, when he's arbitration eligible in the offseason and could serve the White Sox as a solid middle of the rotation starter in 2017 and beyond? Unless the return is staggeringly good, it's not worth moving Gonzalez right now. The White Sox need to give him time to figure out what he is before they make a rash move they could end up regretting.
It's become a very interesting time for the White Sox, who look to be going into total rebuild mode after what became of 2016. However, with so many questions and intricacies at play here, rebuilding is something the White Sox should start in the offseason.
Lead photo courtesy of Joe Nicholson-USA TODAY Sports