James Shields has been one of the many unfortunate blunders that the 2016 White Sox have endured. From giving up three home runs in his first two innings of work with his new team, to just this past weekend when Shields surrendered a season-high four home runs to the power-hitting Baltimore Orioles — it's been a heck of a two months having him take the hill every five days.
The predicament that the White Sox are in lies in that Shields was once good. He was once very good. He posted ERAs in the mid 3.00 range for the majority of his 11-year career, has a career 12 percent HR/FB rate, and even just last season in San Diego was posting a 25 percent strikeout rate.
So what happened? And how did it all happen so fast? Shields may have had been prone to giving up long balls last year in San Diego (which in such a pitcher-friendly park is somewhat alarming), but DRA thought Shields was a little bit better than his ERA suggested last season (3.91 ERA against a 3.58 DRA).
Of course, Shields is in his age-34 season, so he is expected to decline, but there is a difference between a decline and the wheels coming completely off from one season to the next.
There is something up with the pitchers that the Padres are dealing away. First Shields is more than struggling: okay, perhaps it's just his age finally hitting him. Then Drew Pomeranz suddenly is pitching to the tune of a 5.26 ERA since being dealt to Boston. Now, for the crest of our lurking suspicions, and possibly the most revealing of them all, the Marlins received all of three innings from Colin Rea when he was dealt from the Padres before it was revealed that he needs Tommy John surgery.
The Padres quickly took Rea back in a trade, which was the most suspicious part of it all.
So could there possibly be something wrong with Shields that the Padres were covering up? Or is this all just a threefold coincidence? Well let's take a look at something quite interesting and telling about Shields.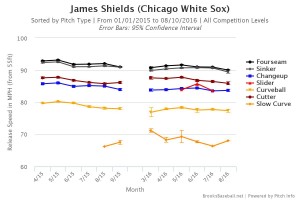 In his piece on Shields and the Padres that James Fegan wrote earlier this week, he notes that Shields' velocity has held up — which for the most part is true. Shields hasn't seen any large 2-3 mph drop off in his velocity that would immediately indicate that something is wrong. But from 2015 to 2016, Shields has seen a slight decline in velocity on nearly all pitches across the board, especially his hard pitches.
For someone such as Shields, that's never favorable, no matter how small the decline is. As it is, Shields only has a fastball that averaged around 91-93 mph over the last two seasons, so to lose velocity on a pitch that's already borderline questionable in velocity is a significant problem. In August, Shields' fastball is averaging just 90 mph.
Not only that, but when coupled with the location of said fastball, it makes for quite the ugly combination. Take a look at the map on the left, and notice that Shields is leaving the majority of his 90-91 mph fastballs right down the middle. Then look at the map on the right and notice that he's getting hit hard on fastballs all over the plate.
The loss of velocity, even if it's slight, along with the location misfires, would automatically lead someone to believe that there are a few things happening here. One could be age, of course, for a pitcher who has endured the workload of Shields (nine-straight 200 inning seasons) and is considered past his prime in Major League Baseball years, that's possible. But the sudden drastic drop off in quality of pitches and location could possibly have something to do with mechanics, an issue with which the Diamondbacks' Shelby Miller seems to also be afflicted, leading to his own drastic collapse.
What do we know about mechanics? Well, bad mechanics can often be a symptom of an underlying health issue, and if they aren't, they certainly are a good way to acquire such an issue.
So does it seem like there is possibly more at play here than just the simple "He's 34 and has pitched a heavy workload over his 11 year career"? Maybe. Maybe White Sox fans are just desperate to let anyone else shoulder the blame for a season that's getting to be all too heavy of a weight to carry. But it seems like with the "coincidence" of Pomeranz struggling in Boston, and Rea suffering a serious injury just three innings into his first start with his new team, that unless the Padres are into some heavy voodoo, something could possibly be up here.
Lead Image Credit: Dennis Wierzbicki // USA Today Sports Images