The excellent and welcome World Baseball Classic notwithstanding, real baseball finally starts Sunday. The White Sox don't commence 2017 until Monday, but about 24 hours earlier the Yankees and Rays will kick off the new season. After the cruel, eternal death march that is winter, we emerge blinking into the sunlight, perhaps sneezing a little if you have seasonal allergies.  We will have new statistics and outcomes to discuss that aren't 2016 anymore.  And unless you're a Cubs fan, 2016 can be safely thrown into the garbage and forgotten for all eternity.
But there is still one day left that we can use to glare with hateful malice at the 2016 season, gnashing our teeth and shaking our fists impotently like the Shelbyville impound lot proprietor and his son as the residents of Springfield drive off, recommending that we eat their shorts.*  To that end, David Wiers was kind/sadistic enough to generate word clouds based on my tweets throughout the 2016 season.
*Spoiler alert: Bart and Homer get the lemon tree back.
Here are my tweets from the first half of the season, which saw the White Sox leap out to their best start since 2005, fostering hope that maybe they would be buyers at the deadline, and maybe they'd even make the playoffs for the first time since I was in college: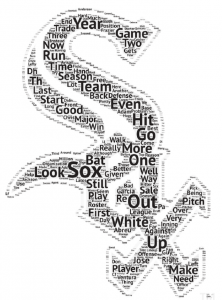 Look at all of these positive words! "Go" "More" "Run" "Bat"! Sure, in a very apt metaphor you can spot "Bad" and "Garcia" nestled next to each other next to a gigantic "Out" but for the most part those were merry days. Over on the left there is even the sequence of "start good major win." And then…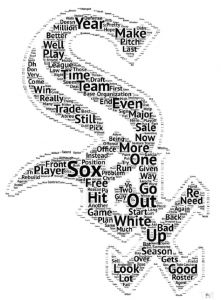 Season over. Out. Need Plan. Draft Team Fail Organization. Rebuild. Problem. Low. Doesn't Walk.
That sounds about right.
But it's gone forever! Now let's all think about how good Yoan Moncada is going to be, instead.