1. This past weekend introduced a new, luxurious aspect of life as an unlikely runaway first place team for the White Sox: piling up victories without playing well. Mat Latos was dinged up for the second-straight start on Friday, Chris Sale had his most erratic inning of the year to start Saturday night's game while the offense stranded 11, and Sunday saw the Sox lineup nearly shutdown by Tyler Duffey.
And yet, they absolutely cruised, so much so that David Robertson likely had to blow dust off his shoulders when he started warming up Sunday afternoon.
This is no small part due to the Twins being absolutely terrible–a complete doormat that is only starting to realize how far away from contention they truly are. They might be at their most vulnerable right now, as they cycle through terrible veteran options (Darin Mastroianni is not a cure to Byron Buxton's struggles) before they just punt and let their prospects have at it.
But show me a White Sox fan who is unimpressed by this team being able to easily win games against awful clubs they should hammer and I will show you a brand new White Sox fan.
2. Speaking of bizarre news that can barely be understood, Jose Abreu's slow start, Todd Frazier's low batting average and Brett Lawrie cooling off a bit means Avisail Garcia, with his .256/.340/.463 line, is leading the White Sox in slugging percentage.
Garcia has provided false early hope before, as he carried a .300 average with moderate power all the way to the second week of June last year until posting .235/.288/.322 over his last ~400 plate appearances. The difference with buying into that hot streak is that it required hope that Garcia could suddenly just be an elite barrel-to-ball guy while maintaining all his problems with pitch selection and velocity on the inner half of the plate. There was a sky-high BABIP that he lacked the skills to maintain behind everything, and it came crashing down in precipitous and predictable fashion.
This year is powered by, well, power (an ISO over .200 at long last), and one look at Garcia's frame and career 23 percent strikeout rate and it's pretty clear that that needs to be a major part of making his living. Combine that with plate discipline numbers that show less swinging and less chasing across the board, and the only reason for cynicism is the cynicism that Garcia's career invites.
He's not doing much that has not been seen from Garcia before–crushing hangers, showing the ability to spray pitches on the outer half to all fields–but thus far he is simply showing the ability to do it reliably while curbing out some of his most egregious mistakes.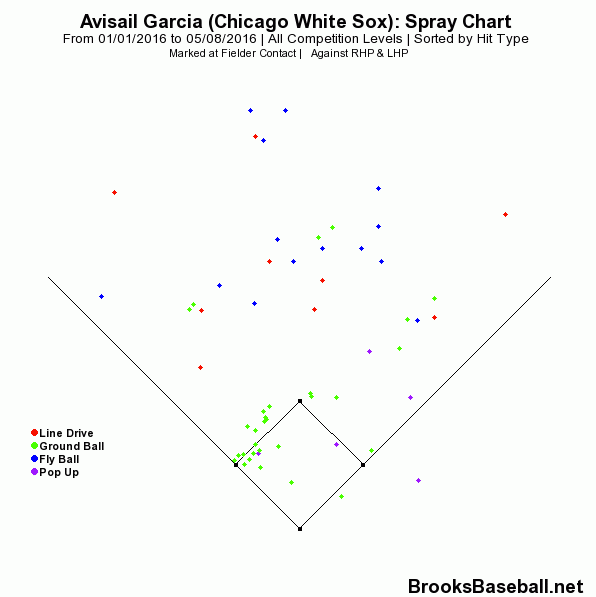 The book on how to attack him remains pretty clear–elevated velocity, especially on the inner half of the zone–and whether he can eat up mistakes at a rate that neutralizes this vulnerability feels like a long-term test for someone who was as relentlessly chewed up as he was by major league pitching in the second half. A Sox team that has its eyes on contention wants a left-handed complement to Garcia at the least, but Jerry Sands shouldn't steal Avisail's playing time anymore.
3. Per Jon Heyman, the White Sox are one of four teams abnormally obsessed with two-time NL Cy Young Award winner Tim Lincecum. Heyman says Lincecum sat 89-92 mph with sharp breaking stuff, but the last really productive Lincecum season was 2011 with steady velocity bleed since then.
Miguel Gonzalez is expected to start Monday night, Erik Johnson just submitted an unimpressive audition of his own and Latos has a discouraging recent injury history, beyond any concerns about his performance holding up. As such the White Sox are in a position to take all comers. But Lincecum has the potential to be significantly more expensive–in the sense that he even has something as large as Latos' contract coming his way–than typical waiver wire refugees, without any recent history to suggest he will outperform them.
Almost any pitcher the Sox evaluate and determine there is hope for is inherently intriguing, but Lincecum's last four years are considerably less interesting than Miguel Gonzalez's when name recognition is taken out of the equation.
Elsewhere in the rumor mill, for what it's worth, Nick Cafardo reports the White Sox could be in on Jay Bruce. Fresh off decidedly below-average offensive years, Bruce is currently hitting .234/.284/.467 with 31 strikeouts to six walks, but at least his bad defense wouldn't be a factor. Thankfully, the connection to Bruce is more a general connection to all left-handed bats on the market, and there are better ones out there.
4. In addition to Gonzalez, Alex Avila is eligible to return to the team Monday from his hamstring injury. Dioner Navarro has been a house of fire at the plate since the moment Avila went down (.326/.354/.605 in 48 plate appearances) but it can be agreed that five-to-six starts per week is not great for either of these guys, no matter who should be getting No. 1 billing.
Navarro is currently the worst framer in baseball, but has strong endorsements from the pitching staff, and since Avila has not yet shown any signs of abating his multi-season power drain (one extra-base hit in 33 plate appearances), Navarro should be able to cling to a majority of the playing time.
5. Jose Quintana is second in the AL in ERA among starters, while Sale is fourth, but Sale is second in the AL in the lowest opposing OPS, while Quintana is a mere sixth, and Sale also leads all of baseball in wins, for what it is worth. cFIP has them stride-for-stride, with Sale fourth and Quintana fifth in the AL, and they are in the same order as seventh and eighth in DRA.
Point being, Quintana, a guy who had established his reputation as a good No. 2 starter with ERAs in the low-to-mid 3.00s like a metronome, is keeping pace with the best starters in the league in the early going. He was due for a hot start that got him the All-Star attention he deserves, but how you feel about the Sox' potential to keep their status at the top of the division should have a lot to do with the ceiling of their top three starters. Save for Lawrie and Garcia, the regression arrow for the Sox offense mostly points up, but there's no real precedent for someone like Quintana to just continually ascend from minor league free agent, to back-end starter, to mid-rotation guy, to bonafide No. 2, to All-Star/fringe No. 1. Still, he's been steadily adding velocity, breaking pitches and elite command like rules don't apply to him for this long, so who is to say when it stops.
Lead Image Credit: Jerry Lai // USA Today Sports Images