1. White Sox general manager Rick Hahn said something pre-game Tuesday that could be excerpted to sound really newsworthy:
Rick Hahn on making trades: "We're prepared to make a move today." Said dialogue has begun but possible deals probably a few weeks away.

— Chuck Garfien (@ChuckGarfien) May 17, 2016
A move today! That would mean a move, and today! This is obviously not what Hahn is saying, nor how he would ever presage a trade. They would just announce a done deal.
This is instead a statement of readiness, perhaps a more amped up one than the typical "we will listen to any offer" axiom that's available to be offered by all GMs at any moment. It's important for him to reaffirm it forcefully when the White Sox are a budding contender with some concerns at the back of the rotation, an ad hoc situation at DH, and probably a need for another shutdown reliever or at least a good lefty.
It's a complicated position for Hahn, who needs to have his eyes on Mat Latos, Miguel Gonzalez, Avisail Garcia, and surely others to see if some shaky roster situations are going to stay viable or need correction. But it seems like he's leaning a particular way at the moment.
The White Sox will use every resource they have to obtain more pitching depth to win now . confirmed GM Rick Hahn

— Bruce Levine (@MLBBruceLevine) May 18, 2016
2. That is probably the way to lean at this point. It would be nice if Garcia could do something to indicate that there will be some consistency to his power hitting, since he's currently as aggressive as ever (he saw 16 pitches total in the last two games of the Yankees series) and seeing him foul back a hanger from Will Harris Tuesday night did not provide encouraging thoughts about his ability to jump all over the mistakes his swing can handle.
But he's succeeding, and his performance has been ostensibly fine, and is statistically sustainable, even if couch scouting of him is imbued with a sense of dread. When the last two guys in the rotation combined for 10 walks and one strikeout in their last turn, they are the bigger issue, and when the No. 3 reliever in the bullpen has gotten shelled his last three times out in a row, that is a more pressing, and likely much more fixable issue as well.
The Sox are just in a bizarre spot trying to improve their lineup at the moment. They can join the other 29 teams in their desire to have more offense, but still maintain defensive prowess from the centerfield, shortstop or catcher spots, they could find a pure bat, which would toss out their still 24-year-old DH while he's sitting at .265/.333/.442, or they could somehow find a left-handed reserve to complement him, that would somehow not take his job by being more viable against right-handed pitching. The White Sox needing pitching is foreign and strange, but easier to address at this point.
3. It's always an odd time to pick on the glove-first center fielder that's allowed Adam Eaton to become the best position player on the team, but as he sits at zero home runs still with 145 plate appearances on the year, Austin Jackson early season warning track bombs that died from cold weather and poor luck, are standing out as his big power outbursts of the year.
His power has been on a steady bleed since his career season of 2013, and while he brings a very advanced plate approach at this point in his career, without an above-average hit tool or ability to draw walks, he's going to be a No. 9 hitter type with this level of pop in his bat.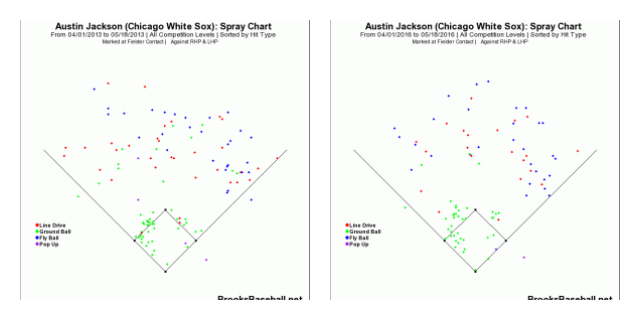 He provides enough from the defensive end, and the versatility he provides to the roster is clear, but if there's a question of where sure opportunities to add to the offense are, here is one. Because there is no great windfall coming here.
4. There was probably more to be encouraged about than not about Carlos Rodon's outing Tuesday night. His plan of amping up velocity for the most part held up. While he wasn't exactly pounding the zone, he was able to control walks and maintained velocity decently well–crested over 96 mph near his 90th pitch–and while his slider is capable of getting 10 whiffs in a night without help, pairing with plus velocity surely did not hurt.
He still had no feel for his changeup, and at least one of Tyler White's wall-scraping home runs was pretty clearly Rodon's command issues coming home to roost, but it's pretty hard to look at Rodon and see the same sort of crisis that Latos and Gonzalez suggest. A really frustrating year could see him float around league average.
5. The White Sox traded for Triple-A outfielder Jason Bourgeois over the weekend. The 34-year-old has appeared in part of eight major league seasons, but has never really hit (.253/.300/.326) and the 252 plate appearances the Astros gave him in 2011 is the biggest chunk of major league playing time he has received. He stole 31 bases in that chunk of playing time, so you can imagine how he's maintained his career for so long, but he's a organizational depth move at this point.
This is all a setup for a fun bit of trivia. Bourgeois made his major league debut in September 2008 as an expanded roster call-up. Even then his purpose was clear, and he was reserved for pinch-running purposes, taking just three trips to the plate while appearing in six games. He was not kept on for the 2008 playoff roster, and granted free agency after the season ended, so the last time he suited up in a White Sox uniform was Sept. 30, 2008: The Blackout Game. If you watch to the celebration at the end of this video, you'll see No. 38.
Lead Image Credit: David Banks // USA Today Sports Images