As bad as the last four games have been, the current White Sox offense is a huge upgrade over last season's unit and possesses more potential for above-average production than anything that's been viewable on the south side this decade.
But even with their positives, they are not a unit that can paper over their franchise cornerstone bat turning into a replacement-level player seemingly overnight, and given that they just dropped their fourth-straight series, they are not even pretending to on a short-term basis.
This weekend, the prolonged effort to confidently stick by Jose Abreu finally hit a point of frustration where it was no longer helping to pretend nothing was wrong. Saturday found Robin Ventura taking moderate measures, making Abreu DH for just the second time all season–When asked if the typically stubborn first baseman resisted, Ventura said he didn't give him the chance–but getting more unfocused and wild at-bats in crucial spots from him in return, as well as general moroseness. Apropos of nothing, I'm not sure anyone has jogged off the field more slowly than Abreu did Saturday that wasn't nursing a knee injury.
Post-game Saturday, Abreu's teammates all gave varieties of 'we believe in Jose' but tinged it with acknowledgement of a clearly bad stretch. "You know, I think he knows what he needs to do," said Todd Frazier, "I talked to him a little bit today. We've all been through it."
Sunday, with Abreu down to an unthinkable .243/.318/.396 on the season, Ventura took it a step up and just benched him; a "mental health day" as Scott Merkin called it. This is not a move to be considered lightly. Abreu had played every game of the season up until this point, and is not alone in that regard. Melky Cabrera and Austin Jackson have appeared in all 44 games this year, and a stomach virus and the birth of a child are the only things that have kept Frazier and Adam Eaton from similar achievements. Ventura doesn't just hand out rest days for his core players, especially not with the bench he's been dealt.
His backup option, the only other player on the roster with first base reps, is Jerry Sands. A troubled matchup with most righties and predictably overmatched against Yordano Ventura, Sands merely delivered the same unproductive day without the angst.
After taking a day to gather himself, Abreu addressed media before Sunday's game. The conflict of pitchers trying to jam him, and having particular success low and inside, has been plainly defined, but Abreu spoke mostly in generalities, possibly due to necessity and the difficulties of translation, and possibly because he prefers not to discuss the worst stretch of his career as anything more specific than a bad slump.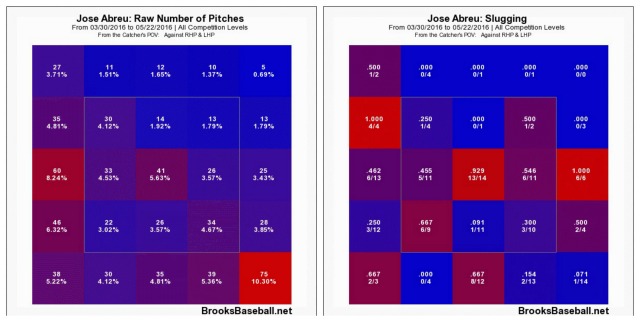 "Right now, it's a matter of my approach. I've been swinging at a lot of pitches out of the zone, and that's not my approach. I have to regroup, and I have to work to be on my successful path."
This is both true and not hitting the point on the head. In total, Abreu's total numbers for drifting out of the zone might lightly suggest improvement. There has never been a version of Abreu that was not among the most aggressive and chase-happy hitters in the league, it was just always paired with a proven ability to produce to all areas to the field that justified his curiosity.
The question now is whether he has a counter to a specific manner of attack being launched on him by the entire league. If it were just a question about doing "the work" as Abreu, Ventura and Frazier have limited their comments to, Abreu and his famous rigorously personal routine would be indomitable, and the Sox wouldn't be at the point where they had to acknowledge Sunday that frustration had risen higher than the tides of progress.
Even with Adam Eaton's ascension, Abreu's long-term effectiveness is the most important element for the success of the White Sox offense. In a close second place is his everyday effectiveness, and having his fully realized presence to prop up their offense to compete in the short window they have with their current group. Patience and faith in his production is the party line, but we're going to find out about what type of player Abreu is in real time, and granting days off so he can collect himself is not really a measure they can fall back to with any regularity.
His very large 29-year-old frame is due to start slowing down in various ways and likely already doing so, he is struggling and failing in a way that he hasn't dealt with since he was a 17-year-old in Cienfuegos and under the most scrutiny of his major league career, while facing the most informed and capable competition he's faced in his entire life, and he needs to cope with these factors and stanch its effect on the flow of runs he produces for the Sox.
We're very much still in "it's just a slump" statistical territory and any sane forecaster would bet on a recovery. But for a player of this importance, every hiccup is a relevant entry in determining the viability of building a contender around him, and that question has never been more pressing.
Lead Image Credit: Patrick Gorski // USA Today Sports Images