Cleveland Indians 22-19
Last week: 5-2 (4-0 vs. Cincinnati; 1-2 @Boston)
A few weeks ago in this space, I wrote about how the Indians might be in trouble after an inauspicious start, coupled with a prolonged injury to bonafide No. 2 starter Carlos Carrasco. The Indians entered the season as, by most accounts, favorites to win the division, with PECOTA going so far as to pick them to finish with the most wins in the American League. The troubling first month-plus, as well as the hot start by the White Sox, had some wondering if the projections underestimated the team's lack of depth and maybe overestimated the team's pitching staff and defense.
Things are still far from perfect in Cleveland. Carrasco remains out for the time being and Michael Brantley just returned to the disabled list after returning from a season-opening injury for just nine games. Yet still, thanks to a White Sox slump and an increasingly mediocre division and league, the Indians find themselves in second place, just 2.5 games behind the White Sox.
So are the Indians any good? Let's dissect:
Yes, they are good: They have won more games than they have lost. That is, as a matter of fact, good.
No, they are not good: Last week at this time, they were 17-17, which is average. It took four straight wins against the Cincinnati Reds, a team that doesn't actually employ any real baseball pitchers, for them to even be in this conversation.
Yes, they are good: Look at that run differential! At plus-26, they are fourth in the American League and second in the division, seven runs behind the White Sox.
No, they are not good: Immediately before the aforementioned series against Cincinnati, they lost two of three to Houston and two of three to Minnesota.
Yes, they are good: They have the best middle infield in the AL Central, a 22-year-old stud at shortstop following up a Rookie of the Year-worthy season by somehow getting even better and Jason Kipnis having an impressive bounce-back season.
No, they are not good: They're giving regular playing time to also-rans like Marlon Byrd, Juan Uribe (sorry, Juan), Rajai Davis, Mike Napoli, and Yan Gomes might be broken forever.
Yes, they are good: That rotation, though. They have the second best pitcher in the division, Corey Kluber, who hasn't even completely rounded into form, and wild card Danny Salazar is out there murdering fools (Sunday's start notwithstanding) with an increased strikeout rate, somehow negating the fact that his BB/9 has somehow gone up this season. Opponents are hitting just .236 against their pitching staff this year, slightly better than the White Sox and better than anyone in the AL except Seattle and Tampa Bay.
Yes, they are good: PECOTA still likes them! As you can see in the chart at the top of this post, their third order winning percentage is still right on par with their actual performance. However, as you can see below, PECOTA still gives Cleveland a better chance at making the playoffs than the White Sox, albeit by the slimmest of margins as it sees the AL Central race being neck-and-neck the rest of the season.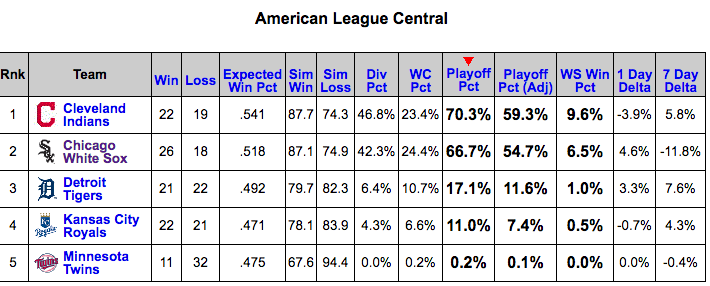 So are the Indians good? I don't know! Thanks for reading!
In all seriousness this team has proved during the first quarter of its season to be one that is both talented enough to make a run in the playoffs and flawed enough to miss out, if things don't break right. The first 40-plus games of the season saw, until recently, nearly everything break right for the White Sox while the Indians survived as the walls crumbled around them. The two teams begin a four-game series Monday, and while it would be unwise to overhype any series in May, the result will be wins in the bank for either team that could go a long way down the stretch.
Kansas City Royals 22-21
Last week: 4-2 (2-1 vs. Boston; 2-1 @White Sox)
It's difficult for me to write about the Royals without using words unfit for this space, particularly after last weekend's flashback to the recent years when they scrapped together "how the hell did they do that?" wins over the White Sox. Kansas City remains treading water, and after falling a season-worst two games below .500 on May 12 when they dropped the finale in a series against the Yankees where they lost three of four, they followed it up with three straight series victories (OK, one was against Atlanta), including back-to-back series wins against the Red Sox and White Sox. They have Mike Moustakas back, but the rotation is still in shambles despite Dillon Gee and Danny Duffy giving solid performances against the White Sox.
Detroit Tigers 21-22
Last week: 5-1 (3-0 vs. Minnesota; 2-1 vs. Tampa Bay)
Talk about a team of streaks. Detroit lost 11 of 12 games from May 3-14 but still finds itself just one game below .500 and 4.5 games back in the AL Central as they've won 6 of 7 since that stretch. Justin Upton is still striking out in nearly 40 percent of his plate appearances, but Miguel Cabrera's numbers are once again Miguel Cabrera-esque, and Ian Kinsler and Victor Martinez continue to defy normal aging patterns. The question for them remains the rotation, which is still incredibly shaky (to put it nicely) behind Jordan Zimmermann … the same Jordan Zimmermann who left Sunday's start with a groin injury.
Minnesota Twins 11-32
Last week: 1-6 (0-3 @Detroit; 1-3 vs. Toronto)
Phil Hughes' contract extension, which will pay him $13.2 million through 2019, kicks in next season.
Lead Photo Credit: Greg M. Cooper-USA TODAY Sports